Coconut Chicken Curry
Are you bored of chicken? Let me introduce you to this simple soup; Coconut Chicken Curry, gluten free, dairy free and delicious! I Love to cook with chicken, for many reasons, but I seem to ignore my leftovers and end up throwing it away. I don't like to waste food. Seriously, who can afford to waste food? So I am on a mission. I will be working on some new recipes to give chicken a tasty twist and to bring new light to the dull, leftover chicken that no one wants to eat; not even me.
First up is an easy to make and super tasty chicken soup? This soup is fast and easy, but taste like you have been cooking it all day. The flavors are explosive, and the nutritional value makes this dish incredibly satisfying. The health benefits of the coconut oil and the anti-inflammatory properties of the turmeric make this a healthy addition to your weekly meal plan. Make a big batch because leftovers taste even better, as the flavors have had a longer time to blend. Best of all, leftovers don't hang around, get some while you can because they are gone in a flash.
Coconut Chicken Curry is a satisfying and tasty twist to chicken soup. Packed full of nutrients from the coconut milk, turmeric, sweet potatoes and green vegetables this quick and easy dinner is sure to please.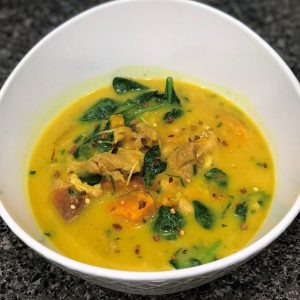 Cut Chicken thighs into bite-size pieces and sauté in either coconut oil or olive oil for 3- 5 minutes.
Leftover chicken can be used instead. Just cut the chicken into chunks and add after the coconut milk and chicken stock.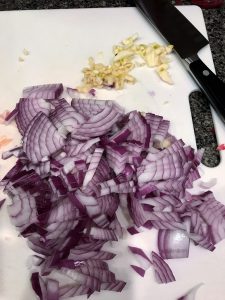 Add the chopped pepper and cook for another 2-3 minutes, until its soft.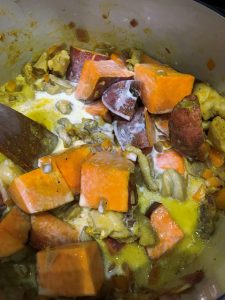 Add the coconut milk and chicken broth. Simmer until potatoes are soft, about 30 minutes.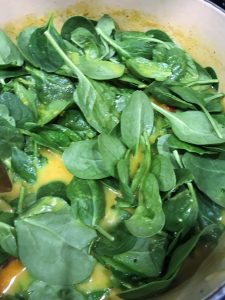 Add the Cilantro, basil, and spinach, stir to blend, then turn off heat.
Serve and enjoy.
Garnish with hot peppers or crushed red pepper.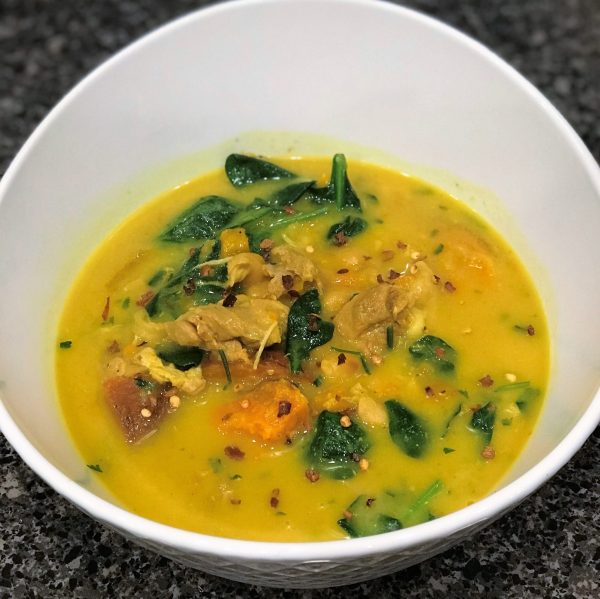 | | |
| --- | --- |
| | |
Saute chicken in coconut oil, or fat of choice, in a dutch oven or stock pot, for 3-5 minutes. Add chopped onion and garlic and saute for another 2-3 minutes. Add pepper and cook for another 2 minutes. *A hot pepper could be added if you like some heat. Add the chopped sweet potatoes, turmeric, chicken broth, and coconut milk and simmer for 20-30 minutes, or until the potatoes are soft. Toss in the chopped cilantro and basil and baby spinach and stir until mixed well. Turn off heat and let sit for 5 minutes. Serve and enjoy. Additional hot peppers or crushed red pepper may be added to increase heat.