Pulled Beef Brisket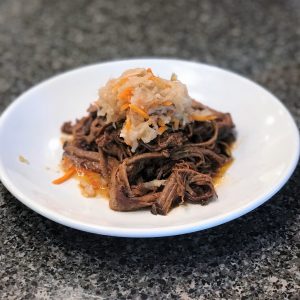 Batch Cooking Ideas:
When working to improve your health through ideal food choices, it may seem that you are spending a lot of time in the kitchen cooking, cooking and more cooking. I often find myself thinking that you cannot expect to be fed again! Oh yes, they can.
One thing that has helped me is to do some batch cooking for the week. Try as I may, we never seemed to have enough left overs to feed us for breakfast or lunch the next day. The larger the meal, it seems, the more substantial my family's appetite becomes. What's a girl (or guy) to do? Spend all day in the kitchen? I think not; I want a life too. What I have started to do is to cook a simple second meal reserved for lunches and or leftover night. By simple, I mean something I can throw into the slow cooker or instant pot and go to bed. This pulled pork is a prime (pun intended) example of doing just that.
The brisket requires a little up-front work, but then can cook overnight to provide a hot breakfast our lunch the next day. Searing the brisket, onions, and garlic before adding to the slow cooker increases the flavor and adds a nice texture to the meat. 
Getting Help in the Kitchen:
I incorporate my family's help, a lot, when I am cooking. This saves a lot of time and frustration for me. They have become my sous chefs and sometimes, even head chef. This works well for us, and it allows me to teach my daughter how to cook for herself; a lost art it today's fast past world it seems. my husband has become a bit of a meat master and I hope to incorporate some of his recipes on this blog as well. We have found that with the three of us in the kitchen together it has become a great way to spend quality family time.
Grass-Fed Beef:
Obtaining grass-fed beef may not be possible for everyone, but for those who can find it, I would encourage you to use this type of beef over all other choices.  There are many benefits to grass-fed beef vs. commercially raised cattle to both the consumer and the environment. One of the best benefits is the nutritional value of the grass-fed beef. The omega 3 to 6 ratio is in proper balance. The saturated fat, amino acids, and B vitamins are easily digested, absorbed and utilized. If you are not familiar with a local source of grass-fed beef, try doing a quick google search in your area. You may have to drive a distance, but you can typically buy large amounts at one time. This will save you time and money in the long run. Possibly try and find another family that would be willing to buy a share with you, to get even more cost savings.

| | |
| --- | --- |
| | |
Bring the brisket to room temperature, pat dry with a paper towel, and season liberally with salt and pepper on both sides.

Heat a large cast iron skillet or dutch oven, and heat the fat until hot. Brown all sides of the brisket. If the brisket is sticking to the pot, then it isn't finished browning, the meat will release easily once it has finished browning. Once all sides are browned, removed the brisket from dutch oven and place it in the slow cooker.

Sauté onions and garlic until soft, about 8-10 minutes. Add additional fat if necessary.

Place onions and garlic on top of the brisket in the slow cooker.

While the beef brisket is searing, mix the strained tomatoes through to the oregano in a medium size bowl. Stir well, and pour over the onions, garlic and brisket. Turn slow cooker on low and cook for 8-10 hours.

If your brisket has a lot of fat, remove fat from the brisket before shredding. Shred the brisket using two forks.

Serve with coleslaw, sauerkraut or kimchi. Goes great with potatoes, or served on a grain free roll.