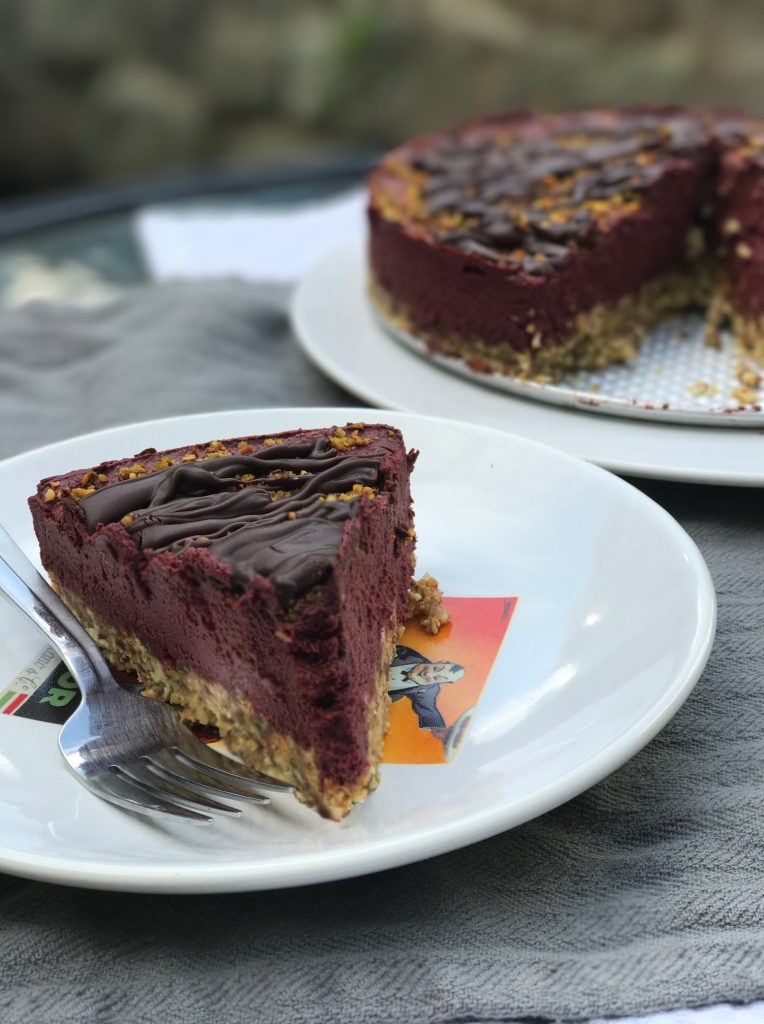 Decadent Chocolate Mousse Cake – grain free, dairy free, egg free!
This cake is an incredibly dense and moist dessert that is a crowd pleaser. With a pistachio crust, a beet, avocado and chocolate center and a chocolate ganache drizzle, this complex combination of sweetness and earthy decadence will leave you wanting more. The beautiful, dark purple cake has a mousse-like texture that satisfies your sweet tooth without the heavy, bloated feeling some sugary desserts can cause.
Grain Free, Dairy Free, Egg Free, Raw Food
Do you struggle with finding delicious desserts with ingredients that fit into your lifestyle or don't cause allergy issues? I know my family does. We aren't big dessert people, but on that special occasion, where a dessert is customary or just desired, it's nice to be able to provide your friends and family with a delicious option that will satisfy their sweet tooth. Not only will this dessert satisfy a sweet-tooth you will also be providing them with dense nutrition simultaneously. Win Win!
I found that trying to replace the standard baked good with a flour replacement simply didn't always provide the best tasting results. Not to mention, a lot of flour alternatives are filled with grains that don't provide a lot of nutrition. They also contain a lot of commercial salt and a good bit of sugar to help these naturally, bland, flour replacements taste good. That is why I decided to experiment. Instead of trying to replace something I couldn't eat, with a not so healthy alternative, I decided to try all new ingredients and create something new. Although some may think the base ingredients, avocado, beets and chocolate, as a very odd way to create a dessert, they combine to create a complex flavor that is very pleasing. Not only does it taste great, but the high nutritional value will satiate your entire body by providing it with healthy fats, vitamins and minerals, as well as a high dose of anti-oxidants. Give this health-boosting treat a try!

| | |
| --- | --- |
| | |
Combine cashews and pistachios into a food processor and pulse until minced. Add coconut oil and pulse. Press mixture onto the bottom of a spring form pan and press flat and even. Place in freezer for 15 minutes.

Cut cooked, cooled and peeled beets into quarter size pieces. Place cut beets and avocados into food processor and whip together. Add the softened coconut butter, coconut milk, maple syrup and vanilla extract and blend. Slowly add the cocoa powder and blend into the ingredients. Ladle the mixture into the spring form pan, on top of the chilled crust. Chill for 15 minutes to firm the mousse.

In a double boiler, melt the chocolate chips and stir in the coconut milk until melted. Drizzle over the top of the cake.

Optional: Sprinkle crushed pistachios over the top